Say hello to over 60 new icons with Bootstrap Icons v1.3.0! We focused our efforts on filling in some holes and expanding some coverage of a few categories. We're super happy with how the new additions came out and hope y'all love them, too!
As usual, we also snuck in some bug fixes to existing icons and ours docs. After this release, we're back to focusing on shipping updates to Bootstrap v5 and v4. More on that soon, and in the mean time, enjoy the new icons!
60+ new icons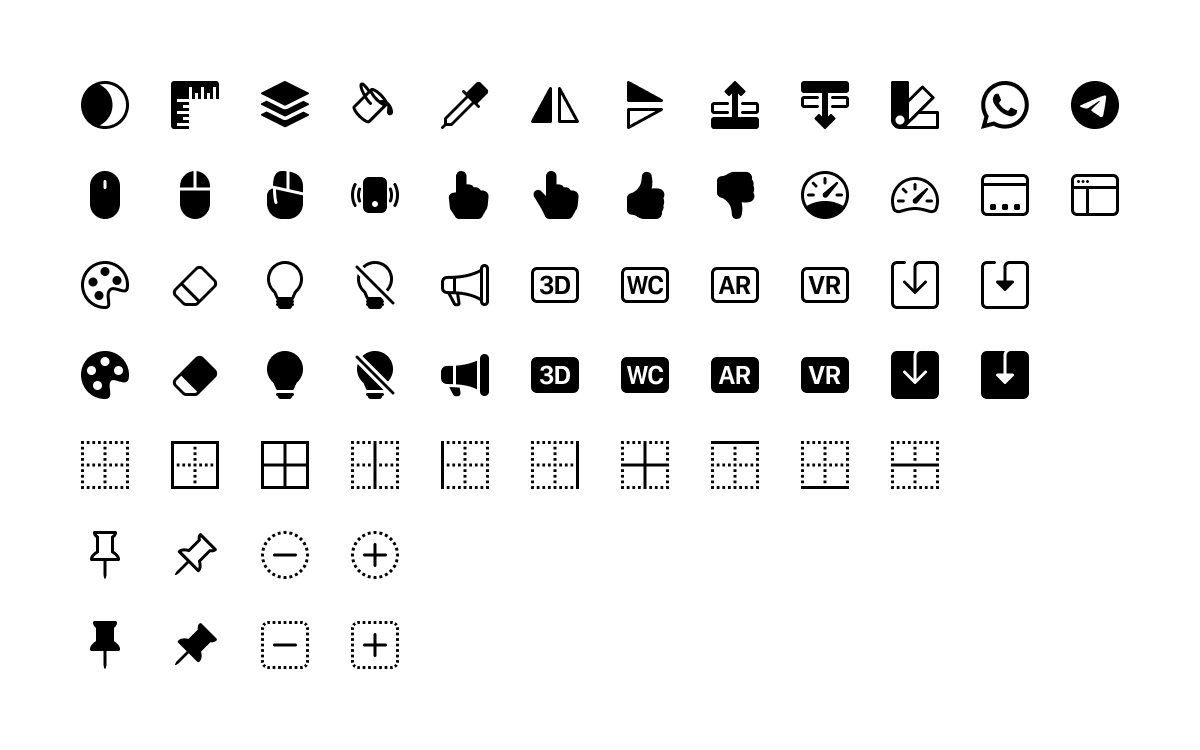 Here's a look at the new icons in v1.3.0:
Added window-dock and window-sidebar
Added two symmetry icons
Added new stack icon
Added two speedometer icons
Added four save icons
Added rulers icon
Added filled variations for phone-vibrate, mouse, mouse2, mouse3, and four hand icons
Added several border icons
Added paint bucket
Added four new badges (3D, AR, VR, WC)
Added four lightbulb icons
Added eyedropper
Added mask icon
Added three color palette icons
Added layer-forward and layer-backward
Added two eraser icons
Added two megaphone icons
Added four push pin icons
Added Whatsapp and Telegram social icons
Added dotted circle dash, circle plus, square dash, and square plus
Have some ideas for new icons we should consider? Open an issue to tell us about it!
CDN quickstart with icon fonts
Since we added icon fonts in v1.2.0, it's been possible to use a CDN to deliver and use Bootstrap Icons in seconds. Include the stylesheet, place short HTML snippets where you want icons, and you're done! If you want to include it yourself, here's how.
Include the Bootstrap Icons font stylesheet in the <head> of your website. Or, use @import to include the stylesheet that way.
 

<!-- Option 1: Include in HTML -->


 

<link

 

rel=

"stylesheet"

 

href=

"https://cdn.jsdelivr.net/npm/bootstrap-icons@1.3.0/font/bootstrap-icons.css"

>



 

/* Option 2: Import via CSS */


 

@import

 

url("https://cdn.jsdelivr.net/npm/bootstrap-icons@1.3.0/font/bootstrap-icons.css")

;



Add HTML snippets to include Bootstrap Icons where desired.
Want to see it in action? We've put together a helpful CodePen demo for using Bootstrap Icons fonts via CDN.
ProTip: Most browsers do not allow SVG sprites to be used across domains, which is why having icon fonts (when SVGs are the preferrable and more accessible method of delivering icons) are so useful. Whenever possible, please use SVGs over icon fonts.
Install
To get started, install via npm:
Read more https://blog.getbootstrap.com/2021/01/07/bootstrap-icons-1-3-0/
Details

Category: Developer News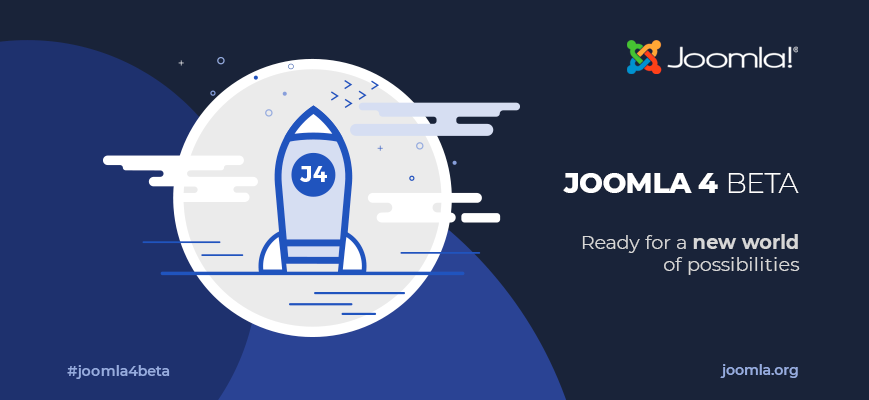 Once again the Joomla Project is pleased to announce the availability of the Joomla 4.0 Beta 6 release, and Joomla 3.10 Alpha 4....
Read more https://www.joomla.org/announcements/release-news/5832-joomla-4-0-0-beta6-and-joomla-3-10-alpha4.html?utm_source=feedburner&utm_medium=feed&utm_campaign=Feed%3A+JoomlaAnnouncements+%28Joomla%21+Announcements%29
Details

Category: JAnnouncements
Information:
The webmasters team mainly consists of leaders and liaisons from other teams, with the purpose to effectively work together on all aspects of our properties and infrastructure. The team meets as needed, because managing the properties is a daily task and communication is done through Glip, Mails and ADoodle.
Our reports will include general information, actions performed and motions taken over a period of time related to multiple properties in the Joomla EcoSystem. The reports will not be about just one meeting which is planned every month like most teams.
The Pingdom monitoring system has been replaced completely with UpTimeRobot, they provided us with a free pro license.
From now on the status of the Joomla EcoSystem sites are visible on https://status.joomla.org/
Things
...
Read more https://volunteers.joomla.org/teams/webmasters-team/reports/1413-webmasters-team-report-q4-2020
Details

Category: JBlogs
Participants: Jaz Parkyn, Chris Keen, Shirielle Williams, Davide Messia, Todd Woodward, Patrick Jackson, Wilco Alsemgeest
Apologies: Andrea Gentil
Minutes:
Jaz spoke about the upcoming elections, and reminded attendees to reach out to anyone that they know who might be interested in submitting their names for a role.
Quarterly report for the department is in progress.
Jaz reminded each of the team leaders of the importance of keeping JVP, Github, Glip and Google Groups up to date with member
...
Read more https://volunteers.joomla.org/departments/programs/reports/1417-programs-department-meeting-5th-january-2021
Details

Category: JBlogs
Production Dept. Meeting MINUTES
- December 15, 2020
1900 CEST, UTC+2 Event time TZ
Participants: Benjamin Trenkle (Team Leader), Carlos Cámara (Team Leader), David Jardin (Team Leader), George Wilson (Release Lead 4.0), Harald Leithner (Release Lead 3.9), Marco Dings (Department Coordinator), Llewellyn van der Merwe (Assistant Department Coordinator), Niels Braczek (Team Leader), Sigrid Gramlinger (Team Leader), Philip Walton (Team Leader), Robert Deutz (Team Leader), Tobias Zulauf (Release Lead 3.10)
Absent with notice: Hannes Papenberg (Team Leader)
Absent without notice: Mike Brandner (Team Leader), Nicola Galgano (Team Leader), Ilagnayeru Manickam (Team Leader)
Agenda Items & minutes
---
Read more https://volunteers.joomla.org/departments/production/reports/1412-production-dept-meeting-minutes-december-15-2020
Details

Category: JBlogs