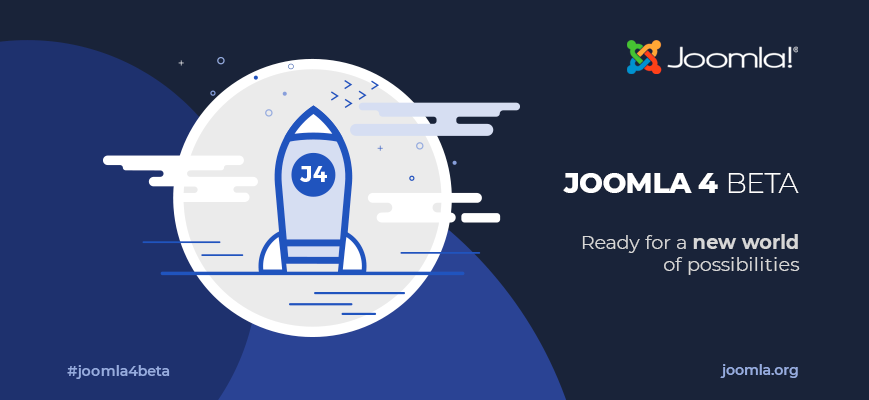 The Joomla Project is pleased to announce the availability of the Joomla 4.0 Beta 2 release....
Read more https://www.joomla.org/announcements/release-news/5813-joomla-4-0-0-beta2.html?utm_source=feedburner&utm_medium=feed&utm_campaign=Feed%3A+JoomlaAnnouncements+%28Joomla%21+Announcements%29
Details

Category: JAnnouncements
This meeting of the Joomla! Compliance Team has been held on June 24, 2020 at 16:30 CET on Glip.
Participants
In attendance:
Donata Kalnenaite
Luca Marzo
Roland Dalmulder
Alkaios Anagnostopoulos
Sander Potjer
Sandra Deocux
Discussion outline
The Webmasters Team has completed the property assessments and the Compliance Team can now work on finishing the Privacy Policy. Donata and Luca will get on calls on Saturdays to complete this task. We anticipate that it should take a total of 3 to 4 hours to complete the Privacy Policy.
After the Privacy Policy is completed, Donata and Luca will work together on the following tasks:
Cookie control - issue #1425 Clarify necessary cookies with additional qualifiers - issue #1421
Alkaios will be working on an issue that the
...
Read more https://volunteers.joomla.org/teams/compliance-team/reports/1267-gdpr-compliance-team-meeting-june-24-2020
Details

Category: JBlogs
Open Source Matters, Inc.
Full Board of Directors and Officers Meeting
Date: June 18, 2020
Time: 17:00 UTC
Total time of meeting: 2 hours.
Attendees:
Elisa Foltyn (Vice President), Luca Marzo (Secretary), Marco Dings (Director), Hugh Douglas-Smith (Director), Djamel Kherbi (Director), Jaz Parkyn (Director), Radek Suski (Director).
Apologies:
Brian Mitchell (President), Rowan Hoskyns Abrahall (Treasurer), Eric Lamy (Director).
Proxies:
Elisa Foltyn for Brian Mitchell.
Marco Dings for Rowan Hoskyns-Abrahall.
Invited guests:
Marianela Queme as Assistant Department Coordinator for Marketing & Communications Department.
Discussion outline
President
...
Read more https://volunteers.joomla.org/board-of-directors/reports/1265-osm-inc-full-board-meeting-june-18-2020
Details

Category: JBlogs
StarShop is a native E-Commerce extension for version 3 of Joomla. It is built for simplicity and flexibility.
StarShop also has a wide range of tools, but also powerful statistics displayable on your StarShop dashboard to help you manage your store.
- Promotions On the first page
it is possible to do daily or monthly research with a countdown and back countdown.( Amazing offer )
Round image module on the first page, by category (showcase).
The first page of a store site is its main showcase.
You want to show them on the first page and ... they should be introduced to the visitors in an attractive and standard framework. In this way, users will be attracted to attractive hair products and those who consider the offers suitable for them will experience a pleasant purchase
- Category Products
It is possible to create an infinite number of collections in the form of trees and surface volumes.
Add metatags for SEO.
Add descriptions and images for each set. Define fields (features) for each set.
A good online store is a store that has no restrictions on the type and number of products. For example, if you decide to start an online store for laptops today and decide to add mobile sales next year, you should be able to do so without the need for an additional programming line or development. It has to define an infinite number of product categories and consider specific fields for each product collection. For example, your store can include two sets of laptops with fields CPU - RAM - VGA, and mobile with fields SIM card number - camera specifications - operating system version. When adding a product according to the product in the desired category, you can set customized fields related to the product.
Ability to define fields as checkboxes, radio buttons, text and color
Possibility to specify the location of the feature (main features are displayed next to the product image and secondary features at the bottom of the page)
Enable or disable the field in the advanced advanced search module
Enable or disable the field in the variety of pricing and variety of features for each product, for example, a product can have several colors, sizes with warranty. Therefore, color, size, and warranty fields must be defined as product diversity fields.
- Products
The ability to quantify product features (fields added to categories)Based on the category in which the product is placed
the product detail section is actually the most readable section of the store site. How the product specifications are presented plays an important role in the position of a store site in search engines such as Google, you can in this section in addition to technical information of the product, materials such as instructions for use, how to make the product, how to repair in case of failure and. .. publish so that you have done effective content marketing for your store site.
Ability to create a gallery of images with the ability to zoom for each product.
Possibility to define a discount.
Possibility to define the status of each product (existing - non-existent).
(Advanced pricing options) In this section, you can define multiple prices for each product, depending on its features, for example, the warranty feature on digital accessories, the size feature on the clothes, the size on the carpet, and so on. The product has several prices. There may also be no variation in pricing, but the user's product selection is important in purchasing. For example, the size of a shoe can be 41-40-39, and each may or may not be available, and may have the same price and different prices. So in this section you can easily define all this process.
Possibility of defining weight and volume for each product (this is used to calculate shipping cost, which will be explained in the shipping section with the same shipping methods)
Determining the products related to each product in the form of indexing (eg supplies Side)
Products that are offered to the user as related products on the product page have a good chance of being purchased. This is because it takes a lot of searching on the part of the user, and the buyer feels the need to provide it. Therefore, the existence of the proposed goods section is one of the necessary sections in the store site. For example, when the user is viewing a mobile phone, all products related to this product, including handsfree, bag, and three, can be displayed in the user-related product section. The product is recommended to the user. They increase the chances of the user buying from the site, because here it is clear what products the user is looking for with what features
- users
easy membership of users on the user's profile site with the fields of province - city, etc. To send products
To send goods Add products to the list Your interest in purchasing it in future visits to the user
it in future visits to the user comments section of the site and adding comments by users that will be displayed with the approval of the site administrator One of the things that will increase the credibility of a store site is to evaluate the user comments section. Is a product. Conversation between users keeps the relevant page up to date and maintains its place on Google. The activity of the comments section has a great impact on the users' visits to your store site
Ability to review products by users Ability to view and track purchases made (order status, payment status, etc.) by user (customer)
Maintain order history with discount date
to special users Sometimes
it is necessary to some users such as colleagues Sales representatives apply a certain amount of discount. For example, you consider a 15% discount for USER1 users. In this case, every time USER1 buys from your website, it buys the product cheaper than other customers
- other features
the product search based on the name
Advanced search feature based on fields (product features)
Each product has many specifications such as category It has classification, color, dimensions, weight, etc., which may be the same as some other products or different. The fact that the user can easily find the desired product among thousands of products, goes back to the efficiency of the ability to search and filter products. Starshop has built a strong search box so that buyers can quickly and easily find the product or products they want.
The ability to compare products
including the most important parts, is the ability to compare products based on fields or product features. Assume that the user of your online store, after reviewing the products, has considered 3 products C, B, A for purchase. In this case, it is appropriate for the user to compare these 3 products on the same page with just one key.
Possibility to determine the order of display of goods and sorting products based on the best-selling, cheapest, most expensive and most popular by the user. Possibility of defining a gift (Ashantion) for each product.
discount code
In this section, you can apply a certain amount of discount for specific occasions from date to date. For example, from Eid al-Adha to Eid al-Adha, you can consider a 10% discount on products. This process will help you market and increase your website traffic.
Types of Mobile Devices - Tablets and Laptops
**- Shipping or Logistics **
Starshop has implemented various methods of receiving goods, including the relevant shipping costs. You can also enable free shipping methods and shipping schedules in this system. For example, you can define different shipping methods for neighboring provinces and different costs and methods for non-neighboring provinces. You can also define a submission method for cities where you have a warehouse, such as a motor courier.
Enable the option (Delivery from the store location for areas where it is not possible to send goods.
Define free shipping for high-volume purchases
so you can define the logistics process of your store exactly according to your facilities and needs.
- Shopping Cart
Using the discount coupons provided by the site when buying
the shopping cart is one of the most used parts of the store site. The user should be able to easily delete or add items to their cart items and edit their specifications. Also, viewing the final discount of the discount invoice has been applied and it is one of the items that should be considered in the shopping cart of a good store site. Viewing user information including address, etc. Depending on the place of order) and ... is also one of the features of the purchase process.
- Online payment gateways
The banking payment gateway management system allows you to connect to a variety of payment gateways
- User menu system
Possibility to create different menus including:
menu Product set
menu A special product
menu Wonderful suggestions
Menu profile user
menu User preferences
Create menu based on keys (product features)
Menu Tracking orders
Possibility to determine the opening of the link on the same page with A separate window
- Management and reports
View and report orders See
the latest orders registered in the management section with the possibility of changing the status of orders Management
dashboard
List of integrated customers with Joomla! In short
it is possible to disable the site (the store is closed)
update the store with just one click. If new features are added to the startup, you can update it with just one click and take advantage of its new features.
The online store designed by Starshop, due to its combination with Joomla, naturally has all the features of Joomla. Implementing sites that focus a lot on content in addition to the store can be well designed and programmed using Star Shabe. Content will play a key role in your online store's position in search engines such as Google. Having a startup and Joomla! Facilities together is an unforgivable advantage. That's why you can use Joomla! User Management Features in password recovery, user role determination, access levels and much more in Startup.
Using Joomla modules to display the Electronic Trust Symbol, Image Slider, Visitor Statistics and May Use Joomla Contact Us Component
It is possible to set specific titles and meta tags for each page and each product
-is completely free to startup
completely free and open source. You can easily upload on your host without any worries.
- Support and help
and much more...
Read more https://extensions.joomla.org/browse/new/extension/e-commerce/starshop?utm_source=feedburner&utm_medium=feed&utm_campaign=Feed%3A+JoomlaExtensions+%28Joomla%21+Extensions+Directory%29
Details

Category: Latest Extensions
The Award Manager Component allows for nominees to be created, and for registered members of your site to vote on who will win the award in each of the created categories.
Works best when categories are created first, before making a listing available for viewing.
Bugfixes:
- Nominee listing had broken empty categories when filtered by year
- Winner listing had broken empty categories when filtered by year
Added features:
- Voting filter by year
- Voting category filter by chosen year show only if not empty
- Dashboard "Voting Stats" filter and ordering for better overview
- Slight Re-branding
To-Do list:
- Add automated winners listing with config [currently winners list only work with manual overrides]
- Add custom fields integration
- Add front-end public access nominee submission form
Read more https://extensions.joomla.org/browse/new/extension/authoring-a-content/award-manager-public-edition?utm_source=feedburner&utm_medium=feed&utm_campaign=Feed%3A+JoomlaExtensions+%28Joomla%21+Extensions+Directory%29
Details

Category: Latest Extensions