Details

Category: Developer News
Say hello to Bootstrap Icons, our very first icon set that's designed entirely by our team and open sourced for everyone to use, with or without Bootstrap. It's still in alpha, but we're incredibly excited to share it with y'all ahead of our v5 alpha.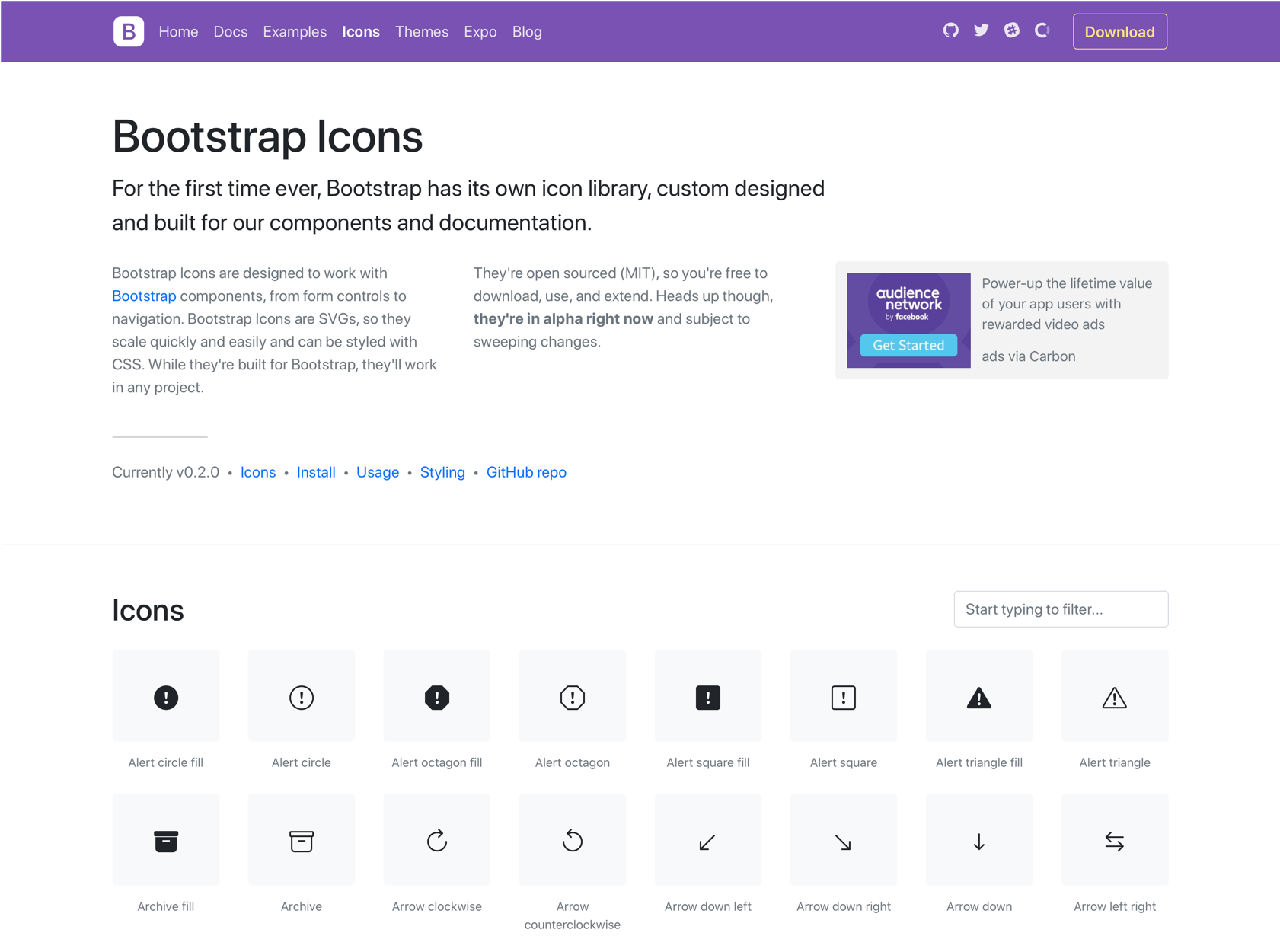 For the longest time, I've wanted to design an icon set to better lean how to better draw with different pen tools and to better understand SVGs. In the last several months I've used a few different applications, done nearly five style iterations, and finally settled on a single direction. The result? Over 200 icons to start.

I've designed these initial icons in Figma and exported them as SVGs. The plan is to share that Figma file publicly once it's cleaned up and the icon set is more stable. While Bootstrap Icons are first and foremost designed to work with Bootstrap's components, they can be used anywhere. They're an entirely separate project and package from Bootstrap, so you can easily use them in any project, or use any other icon set alongside Bootstrap's CSS and JavaScript.
They're also open sourced under the MIT license, so you're free to download, use, and customize as you need. This is an alpha release for now, so bear with us as we get familiar with creating and managing hundreds of SVGs. and more icons will be added over time.
Head to https://icons.getbootstrap.com to explore and download!
<3,

Read more https://blog.getbootstrap.com/2019/11/26/bootstrap-icons/
Details

Category: Developer News
Bootstrap 4 has a new update with a handful of feature changes. We've had quite the lengthy pull request to add responsive containers—big thanks to the developers who contribute to Bootstrap for sticking with it and helping us along the way. Nearly all new features will be carried forward into Bootstrap 5, so feel free to start using them now.
Highlights
Here's what you need to know about v4.4.0. Remember that with every minor and major release of Bootstrap, we ship a new URL for our hosted docs to ensure URLs continue to work.
New responsive containers! Over a year in the making, fluid up to a particular breakpoint, available for all responsive tiers.
New responsive .row-cols classes for quickly specifying the number of columns across breakpoints. This one is huge for those of you who have asked for responsive card decks.
New escape-svg() function for simplifying our embedded background-image SVGs for forms and more.
New add() and subtract() functions for avoiding errors and zero values from CSS's built in calc feature.
New make-col-auto() mixin to make our .col-auto class available with custom HTML.
Fixed an issue with Microsoft Edge not picking up :disabled styles by moving selectors to [disabled].
Deprecated: bg-variant(), nav-divider(), and form-control-focus() mixins are now deprecated as they're going away in v5.
Updated our spacing and alignment for modal footer elements like buttons to automatically wrap when space is constrained.
More flexible form control validation styles thanks to fewer chained selectors. Also updated the :invalid validation icon to be an alert instead of an × to avoid confusion with browser functionality for clearing the form field value.
Fixed a couple dozen CSS and JS bugs.
Moved to GitHub Actions for CI/CD! Expect more updates to our CI setup over time here while Actions evolves.
Updated documentation to fix links and typos, improved landmarks for secondary navigation, and a new security doc for guidelines on reporting potential vulnerabilities.
We've shipped a lot more in this release, so be sure to check out the v4.4.0 ship list of closed issues and merged pull requests for more details.
Head to to the v4.4.0 docs to see the latest in action. The full release has been published to npm and will soon appear on the BootstrapCDN and Rubygems.
Support the team
Visit our Open Collective page or our team members' GitHub profiles to help support the maintainers contributing to Bootstrap.
<3,

Read more https://blog.getbootstrap.com/2019/11/26/bootstrap-4-4-0/
Details

Category: Developer News
Take full advantage of the recent releases of all our extensions with a new or renewed membership purchase at 30% off.
This is a great opportunity to Join the Club!: Get all our extensions, updates and support for 1 year, including releases of new products!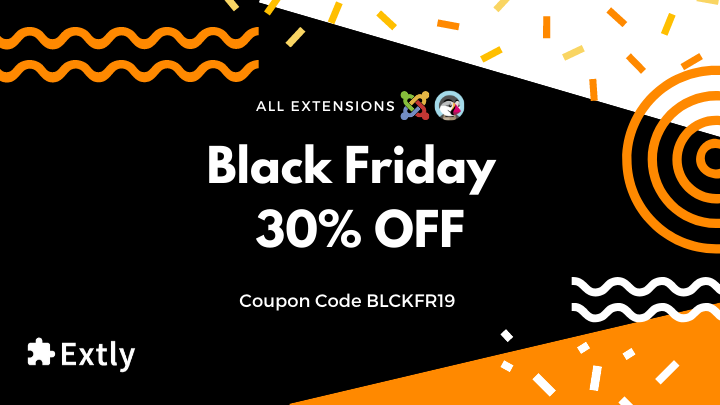 Coupon code BLCKFR19 - Valid until December 1st, 2019
Read more https://www.extly.com/blog/22-latest-news/748-black-friday-cyber-monday-week-2019-30-off.html