Details

Created on Wednesday, 27 April 2016 14:00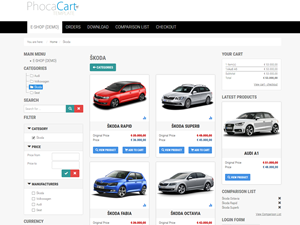 Phoca Cart component[1] development version 3.0.0 RC2 has been released.
Changelog (in comparison to Beta2):
Fixed language typo errors
Added video parameter to frontend view
Added multiple categories feature - product can be assigned to more than one category
Changed SEF handling
Changed database column types (float to decimal)
JString replaced by StringHelper
Search filter for categories in administration is applied to whole category tree
Added Max Levels filter for categories view in administration
Added new parameters for Product: External link, External link title
Main, category, product (product view, comparison view), shipping and payment description accepts content plugins
Implemented hits for categories and products
Added most viewed, best-selling, best-selling (in time period) product statistics in administration
Filter box moved to top in administration
Phoca Cart is a Release Candidate version and it is still in development. Upgrade of database does not work between development version. If you upgrade from RC to RC2, then database data needs to be updated. See:
administrator/components/com_phocacart/install/sql/mysql/install.utf8.sql (RC -> RC2 part).
There are SQL instructions for upgrading database of the component.

If you find any bug or you have some feature request idea, please post it to Phoca Forum[2]. Thank you.
Screenshots: Phoca Cart screenshots[3] site.
Demo: Phoca Cart demo[4] site.
Download:
Phoca Cart component download[5] site.
Phoca Cart download[6] site.
Modules:
To test Phoca Cart, you need to run Joomla! 3 and template which supports Bootstrap 3, see Phoca Cart or Phoca Gweld:
Phoca - Joomla! 3 Templates[7]
Inside Phoca Cart installation package you will find Phoca Upgrade plugin - install this plugin and enable it in your Plugin Manager - it is a system plugin which tries to change Bootstrap 2 design (rendered by Joomla! 3) to Bootstrap 3 design.
See this article: How to install sample data in Phoca Cart[8] to easily test the component.
Read more https://www.phoca.cz/news/877-phoca-cart-version-3-0-0-rc2-released