Bootstrap Icons v1.4.0 adds over 60 new icons as part of a brand new weather category. Also included are some long requested improvements to vertical alignment and a handful of updates to tags and categories.
Keep reading for a preview of the new icons and how icon alignment has changed.
60+ weather icons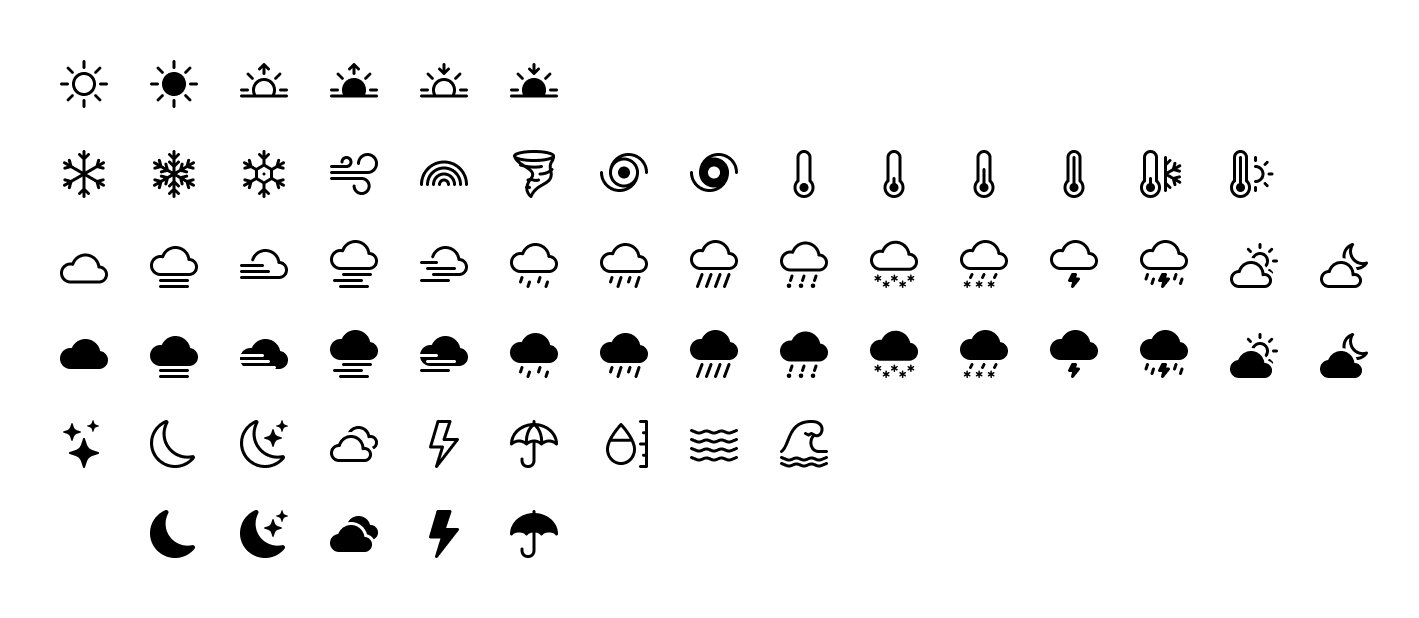 The new weather category includes over 60 icons for various weather and atmospheric conditions. From fog and haze to rainstorms and hurricanes, we now have icons for just about every weather situation. We undoubtedly have some more work to do to refine and add to this new category, but it's a pretty big addition to the project. Let us know what you think and what's missing so we can keep adding to it over time.
Alignment changes

Also new in v1.4.0 are some alignment changes—before and after are shown above. Previously we used vertical-align: text-top in our CSS to aligning individual icons. This wasn't as much of an issue when we only had SVGs, but with the addition of icon fonts and their generated CSS in v1.2.0, we had to make some changes.
New in this release is a change to vertical-align: -.125em. This new alignment is similar to that found in the tried and true Font Awesome project. This change essentially raises icons up about 1px to better vertically center them with nearby text.
It may not be perfect in all implementations, so additional changes might still be needed, but this should give you a stronger baseline to start (pun intended). Should you still run into issues, please don't hesitate to open an issue on GitHub.
And more…
We've also made several updates under the hood, from dependencies to build tools. This has resulted in improved speeds for our development scripts and more resilient tooling for packaging our icons. We've also included category names into the fuzzy search on the homepage, making it a lot easier to search for groups of icons.
We still have some work to do on our docs and search, so stay tuned as we'll eventually add category pages and more for easier browsing and navigating. If you're reading this and want to help improve the Bootstrap Icons docs, please consider opening a PR anytime.
Install
To get started, install via npm:
Read more https://blog.getbootstrap.com/2021/02/22/bootstrap-icons-1-4-0/
Details

Category: Developer News
A simple glossary plugin for Joomla. Easily create a glossary, encyclopedia or dictionary of your terms and show responsive tooltips when users hover over the terms.
Read more https://extensions.joomla.org/browse/new/extension/directory-a-documentation/glossary/jmg-glossary?utm_source=feedburner&utm_medium=feed&utm_campaign=Feed%3A+JoomlaExtensions+%28Joomla%21+Extensions+Directory%29
Details

Category: Latest Extensions
Participants: Wilco Alsemgeest (Director), Jaz Parkyn (JED ATL), Llewellyn van der Merwe (JED TL) , Olaf Offick (Forum TL), Sander Potjer (JVP TL), Roland Dalmulder (JVP ATL)
Apologies: Andrea Gentil (JCM TL), Luca Marzo (JCM ATL)
Absent without apologies: Sebastien Lapoux (Showcase TL)
Motions:
Cancel Operations Department motion 2020/OPS/006 in favour of OSM Motion 2021/004.
The board motion makes the department motion obsolete.
Proposed by Wilco Alsemgeest, Seconded by Jaz Parkyn
Motion Passed Unanimously
Department Coordinator:
Read more https://volunteers.joomla.org/departments/operations/reports/1450-operations-department-meeting-minutes-february-15-
Details

Category: JBlogs
Progressive Web App for Joomla website in minutes. Don't miss any customers.
Progressive web app is one of the easiest ways for your site visitors to contact you.
Studies have shown that those who have a live support line on their website make more sales. Add it to your site and increase your business.
No coding required.
No coding knowledge is required to use Joomla PWA. All you have to do is follow the steps that came with the package. You will complete the setup in minutes.
Super easy setup
Each step of the installation is explained in detail.
You can install and setup in just a few minutes by following the steps
Setup by developer.
Stil need setup help?
Do not hesitate to contact us. We do it for you!
IOS Custom Prompt - UNIQUE FEATURE
Show custom add to homescreen promp message at IOS devices
Design the prompt as you wish
Android Custom Prompt - UNIQUE FEATURE
Show custom add to homescreen promp message at Android devices
Design the prompt as you wish
Push Notifications Enabled
Add your push notification id easily
We also give a free service for push notification enabling to All in One Package
Pass the Google Chrome Lighthouse test successfully.
Your website and application will pass the Chrome Dev Lighthouse test with success.
Application Icons Automated Creation
Send us just 1 icon for your application.
PWAOnline will create the required icons automatically.
Custom start page
Custom start page setup with any parameter
Setup your start page and let visitor to view the selected page at app start
Meta tags automation
All required meta tags generated automatically.
Apple Touch Icons
You can enable Apple Touch Icons
PWA Shortcuts Menu - UNIQUE FEATURE
You can add as much as shortcuts you want!
Create direct links for the sections.
This links shows with icons when user click on to the application icon.
Pre Loaders
Select the best pre-loader that fits to your project
Pre Loaders helps visitors to get an idea about the page loading time
Custom CSS and Custom JS - UNIQUE FEATURE
You can add custom JS and CSS code easily at plugin parameters
14 Language files added - UNIQUE FEATURE
en-GB : Extension is available in English. Languages files will be installed automatically.
cs-CZ : Rozšíření je k dispozici v češtině. Soubory jazyků se nainstalují automaticky.
da-DK : Extension er tilgængelig på dansk. Sprogfiler installeres automatisk.
de-DE : Die Erweiterung ist in deutscher Sprache verfügbar. Sprachdateien werden automatisch installiert.
el-GR : Η επέκταση διατίθεται στα ελληνικά. Τα αρχεία γλωσσών θα εγκατασταθούν αυτόματα.
es-ES : La extensión está disponible en español. Los archivos de idiomas se instalarán automáticamente.
fr-FR : L'extension est disponible en français. Les fichiers de langues seront installés automatiquement.
it-IT : L'estensione è disponibile in italiano. I file delle lingue verranno installati automaticamente.
nl-NL : Extensie is beschikbaar in het Nederlands. Taalbestanden worden automatisch geïnstalleerd.
pl-PL : Rozszerzenie dostępne w języku polskim. Pliki językowe zostaną zainstalowane automatycznie.
pt-PT : A extensão está disponível em português. Os arquivos de idiomas serão instalados automaticamente.
ru-RU : Расширение доступно на русском языке. Файлы языков будут установлены автоматически.
sv-SE :Extension finns på svenska. Språkfiler installeras automatiskt.
tr-TR : Uzantı Türkçe olarak mevcuttur. Diller dosyaları otomatik olarak yüklenecektir.
Read more https://extensions.joomla.org/browse/new/extension/mobile/mobile-apps/pwa-progressive-web-app?utm_source=feedburner&utm_medium=feed&utm_campaign=Feed%3A+JoomlaExtensions+%28Joomla%21+Extensions+Directory%29
Details

Category: Latest Extensions