Web Radio Player Joomla module gives the ability to play audio streaming (web radio)
It works for Shoutcast v1 & v2 and Icecast v2 Audio player based on MediaElements.js
Features
- HTML5 Player - Compatible all modern devices (and mobiles). Read more on MediaElements website
- Parameter to choose HTTPS/HTTP protocol
- Shoutcast v1 & v2 - Icecast v2
- Anti-cache audio link. Player automatically adds time-stamp before play button
- Auto-Play (in some cases does not work due the Browser's policy)
- Auto-Reconnect (If listener has no Internet connection the player can automatically refresh the page, if off-line period is over 30 seconds or force the "Play" button)
Compatible with Joomla 2.5 and Joomla 3.x
Read more https://extensions.joomla.org/browse/new/extension/multimedia/streaming-a-broadcasting/web-radio-player?utm_source=feedburner&utm_medium=feed&utm_campaign=Feed%3A+JoomlaExtensions+%28Joomla%21+Extensions+Directory%29
Details

Category: Latest Extensions
Shack Error Notify will rescue you from serious site problems. This plugin will send automatic notifications if anything goes wrong with your Joomla site.
We have used this plugin at Joomlashack for years, and it has saved us on many occasions. It is easy to miss site errors, but Shack Error Notify catches them all! You will get an email describing what went wrong on your site, and showing you where to fix it.
Checking your site for errors
Shack Error Notify automatically checks for errors on your site. Nobody has time to watch their site constantly, but Shack Error Notify does. If anything happens on your site, Shack Error Notify is watching and alerts you immediately.
Helpful email notifications
Shack Error Notify will automatically send you an email when an error is detected on your site. In the email, Shack Error Notify will give you all the details you to locate and fix the error.
Simple configuration options
Shack Error Notify is easy and quick to set up. You can choose multiple email addresses to receive the error notifications, and you can also choose which types of errors you'd like to be notified about.
Read more https://extensions.joomla.org/browse/new/extension/shack-error-notify?utm_source=feedburner&utm_medium=feed&utm_campaign=Feed%3A+JoomlaExtensions+%28Joomla%21+Extensions+Directory%29
Details

Category: Latest Extensions
Use your time at home wisely: create something new.
During the 1665 pandemic, Isaac Newton had to work from home, too. He used the time wisely: he wrote the papers that started calculus, parts of optic theory and allegedly while sitting in his garden, he saw an apple fall from a tree. That tree.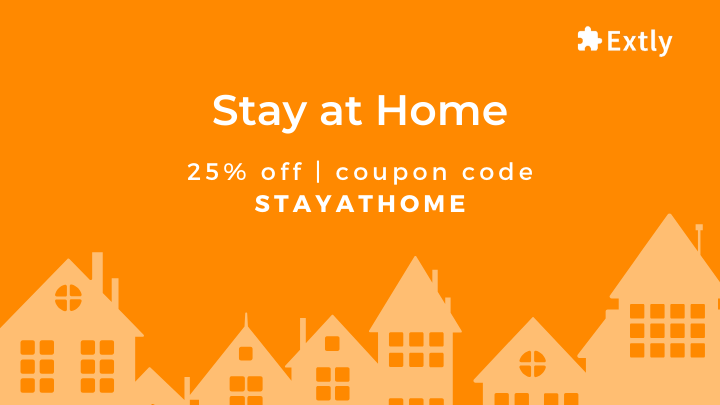 Take full advantage of the recent releases of all our extensions and solutions with a new or renewed membership purchase at 25% off, coupon code STAYATHOME.
Read more https://www.extly.com/blog/22-latest-news/753-stay-at-home.html
Details

Category: Developer News
The WX FORMS component is a replacement component in a standard Joomla contact component. It aims to provide fields for users to fill in the frontend and use an email.
Specifications:
With the WX FORMS component it is possible to create forms with text fields, text area, custom selection list.
For each type of form, you can specify an email destination.
WX FORMS uses Joomla email settings (Joomla global settings).
Allows you to register the submitted forms in a database and export them in xls
When creating a selected menu item for the component, it is possible to choose a form and change the form's page layout, modifying the image size and the information that precedes or proceeds the fields.
Read more https://extensions.joomla.org/browse/new/extension/contacts-and-feedback/forms/wx-forms?utm_source=feedburner&utm_medium=feed&utm_campaign=Feed%3A+JoomlaExtensions+%28Joomla%21+Extensions+Directory%29
Details

Category: Latest Extensions
While we continue to work on Bootstrap 5, I've been jamming away on the Bootstrap Icons library, continuing to create as many icons as time allows. Today marks the third alpha, and massive update to the project. We've officially crossed 500 icons!
We've cleaned up existing icons, created new permalink pages for each and every icon, and added hundreds of new icons—all in one release.
500+ icons!
I've added 221 new icons in our third alpha, the most ever in an alpha release thus far. And while I was drawing all these new awesome icons, I also cleaned up the existing ones by changing their viewBox size and redrew many to ensure more pixel perfect icons.
Why change the viewBox? In the first two alphas, I was drawing icons on 20x20 artboards in Figma. This seemed like a good idea, but every icon was roughly 16x16, so it ended up being dead space. Now, every icon has been updated to eliminate the 2px inner padding, making the viewBoxs 0 0 16 16 instead of 0 0 20 20.
This change has some slight file size improvements, and should help with sizing and positioning as well.
Permalink pages
Looking for a particular icon, but don't want to download the entire project to snag the SVG source code? Need to send someone a link to an icon? Look no further than the new icon permalink pages!
From the Bootstrap Icons homepage, click any icon and you'll be taken to a page dedicated to just that icon. It features the icon in various sizes and renders the source code like you're used to seeing in Bootstrap's docs.
Since this is still an alpha, some features are still missing from our docs. This includes unlinked tags, no category listing, and no copy to clipboard. I hope to see those added before our stable v1.0.0 release. PRs are very much welcome if you'd like to contribute!
Download
Alpha 3 has been published to GitHub and npm (package name bootstrap-icons). Get your hands on it from GitHub, by updating to v1.0.0-alpha3, or by snagging the icons from Figma.
<3,

Read more https://blog.getbootstrap.com/2020/03/19/bootstrap-icons-alpha-3/
Details

Category: Developer News